After living in Pulaski County for over 10 years, we found it necessary to move to Montgomery County.  Since we had been out of the housing market for quite a while, we were a little apprehensive and unsure what

we would find.  We fell in love with the first house we saw, but needed to see others before making our final decision.  In the end, we ended up with our first choice, and could not be happier.

From the very first visit, it was obvious the house was very well built.  The craftsmanship was excellent with great attention to detail.  We didn't really expect to get everything on our wish list, but this house had it.  After meeting Cat White, we knew we were making the right

choice.  During the final walk-through it was clear how proud he was of the house and how much he shared in our excitement.

It has almost been a year since we moved and during that time we have had a chance to see several homes built and sold in this neighborhood.  We have seen Cat's willingness to work hard to meet the needs of his

buyers. He is open and honest and delivers a top notch product at a reasonable price.  We love our

home and would

recommend RA Home

Builders to anyone

considering a new

home.

-The Breedings

Walnut Creek

Cat White with RA Builders has been a pleasure to work with. Not only does he execute quality work, he also goes above and beyond the call of duty.

We went under contract on our home as they were finishing construction, and Cat was great to work with when we were deciding on custom paint colors and ceramic tile. Because we were living out of state, he stayed in contact with us by e-mail and phone throughout the entire process to ensure us that our home was being competed in a timely manner.

We would highly recommend

Cat White with RA Builders

to anyone looking to remodel

or build their next home!  

-The Boldings, Walnut Creek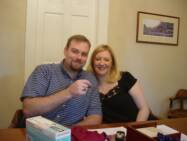 We have had so many compliments on our "blue wall"- you guys did a great job!

-The McChains, Christiansburg

Thank you again for our beautiful deck.  Thanks to you and your staff,  we are just thrilled with the results!  The workmanship is definitely unparalleled.  The framers were clearly professionals, who took the time to make recommendations, but respected our wishes.  We also appreciated the dedication that you, yourself, put into the project.  It was nice to see you multiple times each and every day, coming to check that the job was being done to your standards.  We look forward to enjoying your beautiful creation for many years to come.

-The Christmanns, Riner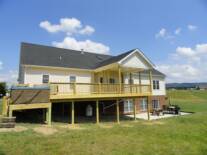 Client contact information available on request

We are blessed to have moved to such a warm and welcoming community.  Thank you for building us such a beautiful home and for welcoming us into your home.  We value you as wonderful new friends.

- The Wileys, Narrows

We just wanted to say thank you for everything you have done for us!  You have welcomed us into your home (twice now), helped us fix some of the blemishes in the house, hauled away trees, and just recently saved us a plumbing bill!  We really appreciate you!

-Chad, Jayme, Luke, and Levi, Walnut Creek

Thank You Very Much for My Garage!   It is hard to believe that a year has gone by since it was finished.  I am elated with the garage.  I am the envy of all my gearhead friends.  My neighbors all say that even as a 6 car garage it looks like it belongs.

-Mr. Griswold, Blacksburg